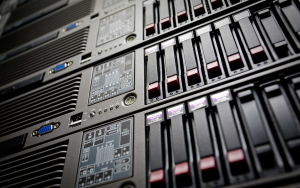 Website Hosting
SAFE AND SECURE
Trust your web presence with Byte Productions. We support our own dedicated Rackspace cloud-based servers. We chose the best hosting product for your website and email hosting so you can breathe easy. Rackspace's web hosting solutions and infrastructure power over 500 billion page views each year!
99.9% UPTIME
Focus your time on what matters most – your business. With 99.9% uptime, you don't have to worry about a thing. Your website will be up and running when it matters most.
FAST & FRIENDLY TECH SUPPORT
We understand that not everyone speaks tech. Our local team will work with you one-on-one to support any technical issues you may have. There aren't any silly questions around here and getting your email and website working for YOU is most important.
Securing Quality Web Hosting
More information on website hosting in general!
Secure web hosting is not just a plan but a road map of having a successful business. If you have a website for your business, you understand important the safety of your site is. You need to have secure web hosting not only to keep your data safe but also to run your business 24 hours a day and 365 days a year without problems. One of the factors that can influence how successful a website ends up being is the web hosting that they have secured. Different providers offer different things.
With the wrong provider, things that are put up on a site may not be as secure as they could be, and they might not be able to load quickly or handle that much traffic. Because of these facts, a provider that does not offer an optimal experience may in fact cause harm. If things are not accessible, or they do load correctly, then the ability of the site to handle traffic or offer a great user experience may be severely damaged. Therefore, finding a good provider of these services is something that bears research and careful thought.
A good provider will give their clients a defined range of perks and benefits that come along with the territory. These things can make a world of difference regarding how successful everything is overall. A quality web hosting service should be secure. Good companies make it their priority to protect their client's information and tender points, but not all of them will be able to provide these services.Secure servers require the efforts of specialists in the industry, who are willing to update regularly the things to keep the site safe. Since the internet as a whole can adapt rapidly to security measures on the fly, secure hosting requires a concentrated effort to be put forward.
A good firm will have people that are specialized in these types of issues, to give clients the most secure experience possible. When it comes to setting up an online reputation and services, not being secure can have disastrous results. Therefore, security is something to be emphasized, along with a willingness to adapt to stay current and relevant. Firms that do not offer this type of protection for their clients may be risky propositions.
The next important thing when looking for a good provider is the ability to provide a customer with unique domain names. Names that are a part of a sub domain do not receive as much traffic as the ones that have unique domain names. This is because of the way that search algorithms work, and it is because of the way that these subdomains are perceived. Put simply, domains that are a part of a larger entity lack a unique offering. In a way, the internet as a whole expects originality and positive impressions from visits to websites. Therefore, creating the perception of legitimacy through unique domain names is an effort that is well worth it in the end.
Appearances are often imperative to the overall success that efforts have. Therefore, maintaining that aspect is critical as well to do. With quality web hosting it is sometimes required that a dedicated server used to handle the network traffic. As sites become more accessible and relevant, they will need more bandwidth ion order to hold the breadth of visitors that are incoming. Providers that are only able to offer limited bandwidth options can cause a limitation in the performance of the site. If a site is to grow and expand, it can be expected that there will be more people visiting. If a site is brought to a crawl because the traffic exceeds abilities, then that does not send an excellent message and may cause visitors to leave. Therefore, hosting solutions need to be able to take traffic if it shows up.
It is a combination of all of these factors that make it so that people can effectively feel like their site will be taken care of and have the room to develop. Seeking out all of these traits is something that is highly encouraged. The result will make the effort worth it. With improved traffic will come improved overall viability for the people involved. Quality web hosting can make a world of difference for a company's online presence. By securing the services of a good provider, the site that is being put up will be much safer and viable, as well as being able to handle more visitors.