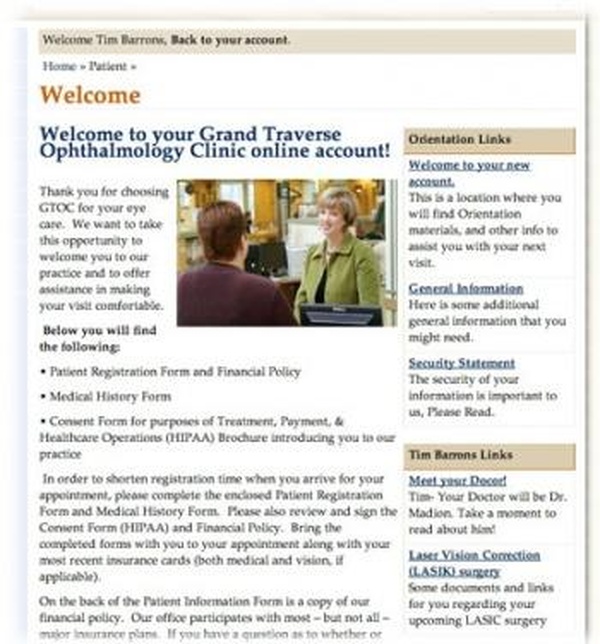 Customer Focus: GTOC
Posted by: admin 11 years, 3 months ago
One of our favorite things to do is show off our latest and greatest projects, and share the innovative ideas that our clients are using on their websites. In this issue of InfoBytes we are excited to focus on Grand Traverse Ophthalmology Clinic (GTOC).
Grand Traverse Ophthalmology Clinic
www.gtoc.net
GTOC's website has a fully functioning custom Content Management System (CMS). This gives the GTOC staff and web administrators complete control over any bit of content within their site. Not every website needs to have a complete CMS, but some companies change and add information frequently, need to edit content within the site after business hours, or within a very quick time frame. In this case, a company can choose to have a dynamically controlled Content Management System. They can build new pages, upload images, link in PDF files, and format any page in their site. The CMS also allows them to create event calendars, create web forms that will send emails to specific contacts when submitted, and much more.
Patient accounts and registration
GTOC's website has a new patient registration section. This allows a GTOC patient to create an account and securely complete and submit a medical history form or other form. Then the information can be accessed and updated by the patient and/or the GTOC staff. All patient information is processed using SSL secure encryption technology. This new section allows GTOC to share general welcome and orientation information with their patients, and even allows the staff to prepare pages and download links that only that patient will be able to access from their account. You can see what an example of a personal account welcome screen looks like in this image.
Patient education
GTOC has added an Article Library so both patients and staff can search for and combine articles into a format we call "Info Paks." This is a truly innovative concept allowing doctors and patients to use the website as a tool to create, combine, save and share information specific to their needs.
GTOC says...
"The team at Byte Productions is top notch. With their insight and ability to relate to our industry and needs, they have allowed us to take our website to the next level. We appreciate their professionalism, attentiveness, and creativity!"
– Janice Andrews
GTOC Adminstrator
Online store
The new GTOC website also has a complete e-commerce section where site visitors can purchase cosmetics and other accessories. A customer can browse through the online store, add products to their shopping cart, and check out in a secure environment. Customers can also purchase a gift certificate that can be emailed to a friend. The recipient would then log into the website and redeem the value of the certificate by purchasing products through the online store.
Enlarge Type size
Since GTOC is an Ophthalmology Clinic, some of the site visitors might have a hard time reading the text on the screen. That's why the handy font enlargement buttons were added to the site and are always present in the upper right hand corner (see the red circle in the image). With just the click of a button the text in the content area of the site will be enlarged to a size that is easy to read. The state of the text size is saved so when a site visitor comes back, their preferred font size setting will be remembered.

This is just a sampling of the features of the GTOC website. Keep checking back to see what new creative and innovative ideas that they'll add in the future!
The Grand Traverse Ophthalmology Clinic. Website creative pre-planning was a collaborative effort between GTOC, Bright Bridge Studios and Idea Stream. Website production was by Byte Productions LLC.
Share on Facebook
---