Because We
LOVE

Our Customers... ...we've added two additional features!
We've upgraded everyone's email box limit from 10GB of storage to 25GB! This was a free upgrade for all of our domain-based email customers.

Having a problem before or after hours? There is now an error report form that can be accessed anytime. Filling out this form will help resolve the issue even faster! Read more...
---
Cyber Monday Deal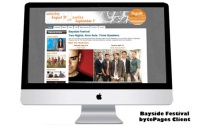 We aren't interested in the Black Friday crowds; so let's celebrate Cyber Monday with an awesome deal. Get 10% off a Small Business website today!

Just use Promo code: CYBERMON13 at bytepages.com from now until Monday.

Forward this e-mail to a friend in need below.


---
Meet A Tourist In My Own Town

It's a new, local company offering 25% off your favorite restaurants & hotels during the off-season. We created a custom-design for this "locals only" club, which feels warm and inviting, just like all the featured affiliates within their program.

Visit the new A Tourist In My Own Town website & learn more and purchase your membership card today. You are also invited to their Launch Party on December 10th!

Dress to Impres

Impres Salon located on Front Street in Traverse City just launched their stunning new custom-designed website.

If you want the perfect gift for someone special, purchase a personalized gift certificate right through the website. Who wouldn't want a spa package delivered right to their inbox?

Plus, for a limited time, for every $100 you spend in gift cards, you receive an added $15 value!
---
Have a Great Thanksgiving from
the whole Byte Crew!
P.S. We're renovating the office. Check out the
pictures!